GETTING AROUND VIETNAM BY MOTORBIKE, LIVE THE ADVENTURE BY TRAVELING THE COUNTRY BY MOTORBIKE.
GUIDE TO TRAVEL VIETNAM ON A MOTORCYCLE 2020
If there is one country in Southeast Asia associated with motorcycle travel, it is Vietnam. Each year, thousands of backpackers set off on an adventure: live the unique experience of traveling Vietnam on a motorcycle.
We have therefore written this article as a small guide, to advise you and explain to you how to travel to Vietnam by motorbike, how to buy your motorbike, certain legal problems encountered…
TIPS FOR TRAVELING BY MOTORBIKE IN VIETNAM
Here are the different things to take into account if you decide to travel Vietnam on a motorcycle.
WHERE AND HOW TO BUY A MOTORCYCLE IN VIETNAM?
The first thing to understand is that it is very easy to buy a motorcycle in Vietnam. In all hostels and guest houses in Hanoi or Ho Chi Minh , you will find motorcycles for sale. Some with signs with the phone numbers or e-mail of the sellers (other travelers like you have finished their trip). You can also find ads on websites ( Vietnamese crigslist ) and on Facebook .
The best guarantee is to buy directly from a mechanic. In general, motorcycles sold in garages have less than one kilometer on the odometer and a quick revision already made.
HOW MUCH AND HOW TO BUY A MOTORCYCLE IN VIETNAM?
Obviously everything depends on the model. The average for a motorcycle in good condition is between $ 200 and $ 300 and you can resell it at the same price once your trip is over.
At the time of purchase, you will not have a contract. Just a good handshake! the seller must nevertheless give you the papers of the motorcycle (blue card) on which you will have to check the registration number and the chassis number.
WHICH MOTORCYCLE TO CHOOSE TO CROSS VIETNAM?
To help you choose a model: you will have the choice between the typical  Honda Win  ,  Honda Wave  or  Honda Drems   (semi-automatic 120cc light, the most common everywhere in Asia) or motorcycles similar to the famous Minsk of  Belarusian origin.
If you are not a biker at heart we advise you to buy the Honda, without clutch it is very handy and goes everywhere.
DRIVING LICENSE AND INSURANCE IN VIETNAM
In Vietnam, tourists are allowed to drive 2-wheel motorized vehicles up to 50cc. Okay if you rent a scooter for the day but not if you buy a 120cc to cross the country.
You must therefore be in possession of an A license (125cc + international license) to ride in order and wear a helmet to be covered by your insurance in the event of an accident .
CROSSING THE BORDER BY MOTORBIKE
You can cross the borders of Cambodia or Laos with your motorcycle without any problem, but only in one country at a time. Not possible to go to Cambodia, then to Laos! what a pity !
EQUIPMENT, MOTORCYCLE MAINTENANCE AND CHECKS BEFORE DEPARTURE
Before you hit the road and get away from civilization, you need to check a number of details about the bike and yourself.
It is important to change the oil every 300 to 500 km and check the following points before departure: oil change / level, lighting, tires, brakes, levers of all kinds, no leakage under the motorcycle , transmission (chain tension). Mechanics are very cheap in Vietnam, so do not hesitate when preparing your motorcycle.
You will need to wear a helmet and we strongly recommend that you add gloves, a scarf, glasses, pants, long sleeves and the essential raincoat to your basic equipment. To protect you from dust, gravel, sun and rain …
Summary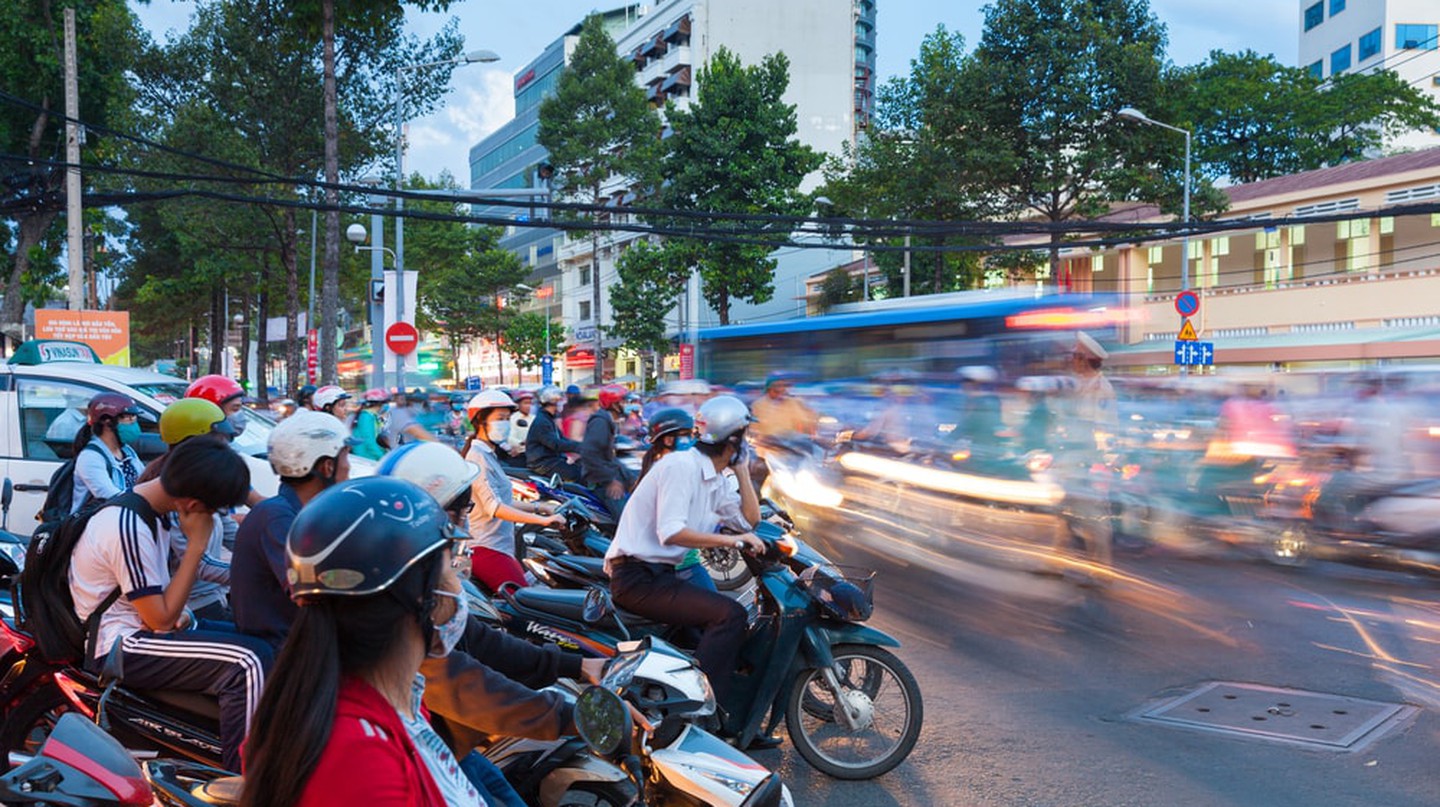 Article Name
GUIDE TO TRAVEL VIETNAM ON A MOTORCYCLE 2020
Description
if there is one country in Southeast Asia associated with motorcycle travel, it is Vietnam. Each year, thousands of backpackers set off on an adventure: live the unique experience of traveling Vietnam on a motorcycle. We have therefore written this article as a small guide, to advise you and explain to you how to travel to Vietnam by motorbike, how to buy your motorbike, certain legal problems encountered…
Author
Publisher Name
Publisher Logo