Immigrating to Vietnam during the Covid-19 outbreak is more strict than usual.
Passengers from countries and territories are compulsory isolated on arrival in Vietnam include:
– China
– South Korea
– Iran
– America
– Schengen European countries: Austria, Belgium, Czech Republic, Denmark, Estonia, Finland, France, Germany, Greece, Hungary, Iceland, Italy, Latvia, Liechtenstein, Lithuania, Luxembourg, Malta, Netherlands, Norway, Poland, Portugal, Slovakia, Slovenia, Spain, Sweden, and Switzerland.
– The United Kingdom
– Northern Ireland
– ASEAN countries: Indonesia, Malaysia, Philippines, Singapore, Thailand, Brunei, Laos, Myanmar, Cambodia
(Including Vietnamese with foreign passports, passengers have traveled to these countries within 14 days)
About VISA while immigrating to Vietnam during the Covid-19 outbreak
From 0:00 on March 18, 2020, the temporary suspension of visas for foreigners to enter Vietnam is valid for about 30 days.
Also from March 18, 2020, cases of a visa exemption are granted or visas are issued for Vietnamese people and relatives, some other special cases (such as experts, business managers, workers, etc.). (…) must have a certificate of non-positive for COVID-19 virus issued by the competent authority of the host country and this certificate is approved by Vietnam. The above-mentioned measures do not apply to people on the entry for diplomatic or official purposes.
Immigration procedures upon arrival in Vietnam during the Covid-19 outbreak
Passengers onboarding at Vietnam's international airports will be given health declarations. From March 7, 2020, foreign passengers entering Vietnam are required to declare their health status electronically just before taking a flight to Vietnam. The contents of declaration and instructions for electronic health declaration are posted at http://tokhaiyte.vn or http://suckhoetoandan.vn/khaiyte or scanning QR codes at the airport.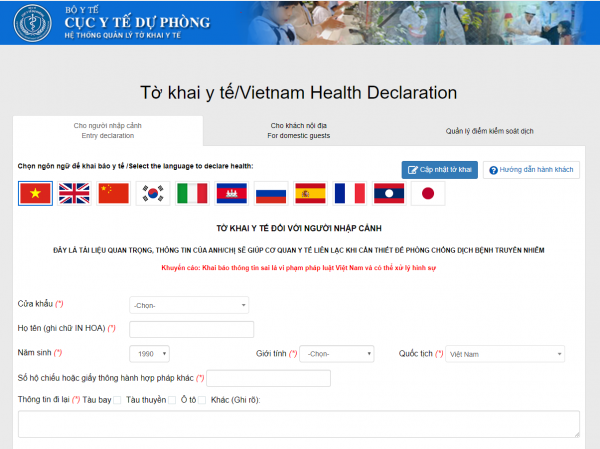 After the medical declaration, passengers come to the workplace of the medical quarantine at the airport to confirm their health declaration (before immigration procedures). Then carry out immigration procedures as usual.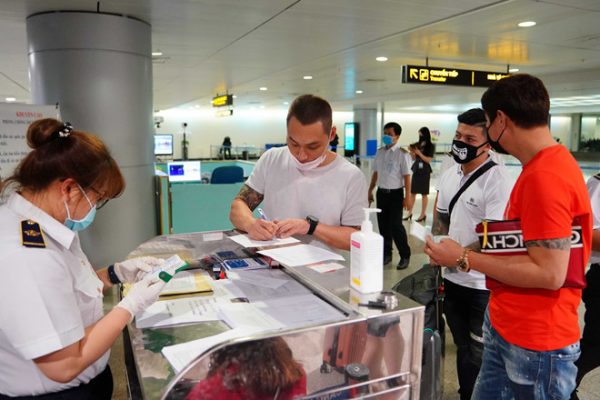 Those returning from or through an epidemic area need to make accurate and truthful medical declarations upon entry; strictly abide by medical supervision and quarantine for 14 days as prescribed.
Acts of concealing, failing to declare, intentionally providing untruthful information, failing to comply with quarantine will be strictly handled according to law provisions. Cases of entry must undergo inspection and comply with appropriate epidemic prevention and control measures strictly according to regulations.
With the complicated development of the Covid-19 epidemic, every passenger should strictly follow the regulations of the Ministry of Health to ensure the health of themselves and the community.
For a healthy Vietnam!
Summary
Article Name
Immigrating to Vietnam during the Covid-19 outbreak
Description
Immigrating to Vietnam during the Covid-19 outbreak: 1. Passengers from countries and territories are compulsory isolated on arrival in Vietnam 2. About VISA 3. Immigration procedures upon arrival in Vietnam during the Covid-19 outbreak
Author
Publisher Name
Publisher Logo