As of 8 am on 11/02, the number of people infected with Coronavirus is 43,098 and up to 1,018 deaths. If you have a flight at Tan Son Nhat on this occasion, surely you will be very worried whether the airport is safe or not? Please follow the article below for more information!
The prevention of Coronavirus at Tan Son Nhat airport is carried out extremely strictly
Under the direction and strict control from the Ministry of Health and the Civil Aviation Authority of Vietnam, epidemic prevention at Tan Son Nhat International Airport has been implemented very strictly. As one of the country's key airports, the safety of passengers at Tan Son Nhat is of special interest to the government.
The representative of Vietnam Airport Corporation (ACV) said: "Currently the quarantine work at Tan Son Nhat, Noi Bai and major airports is being carried out closely." To ensure safety in Tan Son Nhat, the staff at the airport wear masks and gloves during the work, and alcohol and antiseptic solution are also fully equipped for passengers on arrival.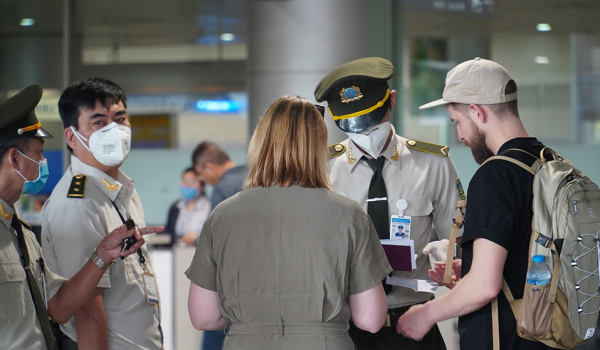 At security screening doors, passengers are measured body temperature with an international standard meter. Each meter is carefully monitored by observers to promptly detect passengers with high body temperature. Tan Son Nhat Airport is also fully equipped with medical equipment to quickly check if it detects passengers showing signs of fatigue, cough, runny nose .. If any of the above signs, passengers can call the Health Department hotline 19003228 for health advice. For international travelers who do not have a SIM card in Vietnam, you can choose sim phù hợp tại đây.
Some tips to keep yourself safe when arriving at the airport
You can protect yourself against Corona epidemics when arriving at the airport by the following methods:
Equip personal disinfectant water and wear a medical mask (if masks are not available, you can go to medical mask allocation points for free at Tan Son Nhat airport area)
Wash your hands with an antiseptic solution when using a public restroom.
Minimize the use of hands to touch eyes, nose, and mouth
Keep a distance of at least 1.5 meters from the opposite person
However, you should not be too worried because the Corona epidemic in Vietnam is still well controlled. Among 15 people positive for nCoV virus in Vietnam, 6 have been cured and no one has died.