DISCOVER OUR ITINERARY AND OUR ADVICE FOR TRAVELING 15 DAYS IN VIETNAM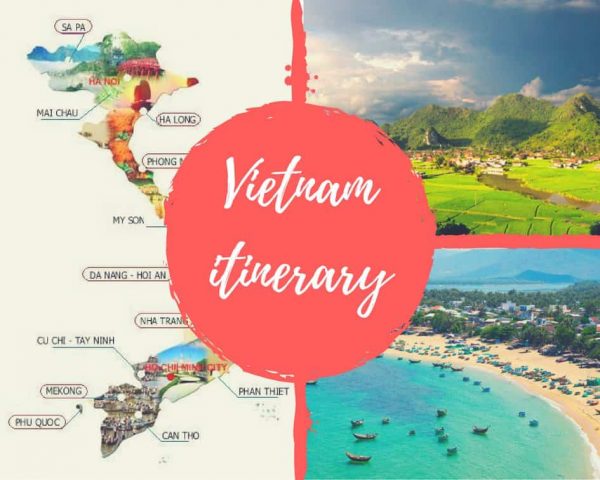 TRAVEL ITINERARY 2020: 15 DAYS IN VIETNAM
Vietnam is one of the most beautiful countries in Southeast Asia, not to be missed if you are traveling in the region. The natural beauty of its landscapes, its busy history and its smiling and welcoming inhabitants make Vietnam a country visited every year by ever more tourists. An average stay for the tourist is 15 days in Vietnam, because beyond that you must apply for a Visa to enjoy the country for longer.
Discover our ideal itinerary to travel 15 days in Vietnam, and organize your next trip.
IDEAL ITINERARY FOR TRAVELING 15 DAYS IN VIETNAM
Our travel itinerary for 15 days in Vietnam begins in the north of the country, in the vicinity of Hanoi , then we will descend quietly along the coast to the central region of the country and the cities of Hoi An .
1ST STEP
The first part of this itinerary focuses on the North of Vietnam:
Spend 2 days in Hanoi when you arrive in the Country. It's the best way to acclimatize yourself. Visit the city at your own pace and discover the essential monuments.
Take a night train heading north and the town of Sapa . Land for two days and discover  the incredible mountainous landscapes of northern Vietnam.
Return towards Hanoi and continue to Cat Ba and its islands . It's time to take two days to enjoy excursions to one of the most beautiful bays in the world: the famous Halong Bay .
STEP 2
For this second stage of your trip to Vietnam, take a bus or train towards Ninh Binh where you will be able to enjoy a few days, in particular at Tam Coc. This part of Vietnam is nicknamed the Halong Bay on land, take a look to understand.
Stay three days maximum because it's already been 9 days since you arrived in Vietnam.
STEP 3
Our last leg of this itinerary in 15 days in Vietnam will take us to the central region of the country.
Coming from the north, stop for two days in Hue, the famous imperial city .
End this trip to the city of Hoi An and its old quarter. It is a fantastic city where you will inevitably find something to occupy your last days in Vietnam: the resolutely photogenic and picturesque old quarter, the exquisite food and gastronomy, crafts, souvenirs, fabrics, and the beach at 20 minutes for those who miss some sand.
Finally go back to Hanoi by night train or by plane from Da Nang . You can find really cheap flights.
As you can see, 15 days in Vietnam is quite short. On this route we made the North and the Center but if you also want to discover the South of the Country it will be necessary to plan a little more time.
ITINERARY: 15 DAYS BETWEEN HANOI AND HOI AN
TIPS
To visit the Country from North to South, count 3 good weeks: itinerary between Hanoi and Ho Chi Minh City
The rail network is very efficient in Vietnam, try to favor the night train to save time and you will save on the accommodation budget.
Remember that you will need a visa if you plan to stay more than 15 days in Vietnam.
If you travel during a period of high tourist influx (high season), it is recommended to book your journeys but also your accommodation because the best offers leave very quickly.
The best time to visit this region of Vietnam is from October to April. From May to September the weather is quite temperamental.