Vietnam is known as the "No.1 chef in the world" with hundreds of both visually and flavorfully attractive dishes. Saigon (Ho Chi Minh City) with the 6 most delicious and popular dishes and in the following article has made tourists unforgettable.
1. Banh mi (Vietnamese bread)
Ranked as the best street food in the world, Vietnamese bread appears in the Oxford dictionary through the word "banh mi" and captivates countless international consumers.
"Banh mi" includes a loaf of crispy bread and stuffed with pork, pate, eggs, pickles, cucumbers, herbs, fish sauce, chutney, … inside. Depending on the name, the filling of bread can be changed into chicken meat, meatballs, sausages, patties, jambon, … Bread with meat (banh mi kep thit) and one with pate (banh mi pate) are the two oldest, most famous and popular types.
First appeared in Saigon, bread has been a familiar and convenient dish of Vietnamese people, as it is compact and full of nutrients. From small alleys to major roads, from train stations to airports, everywhere you can easily buy a loaf of bread.
Huynh Hoa Bread, Hoa Ma Bread, Nhu Lan Bread are 3 of the names familiar to Saigon people and famous to domestic and foreign tourists.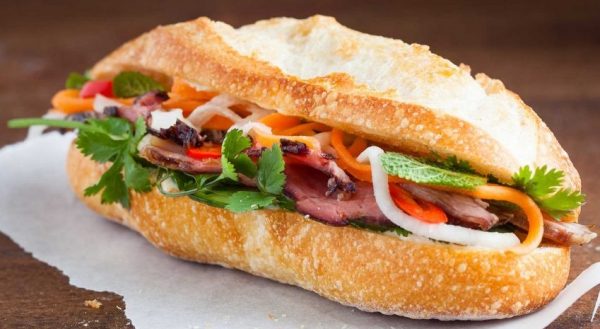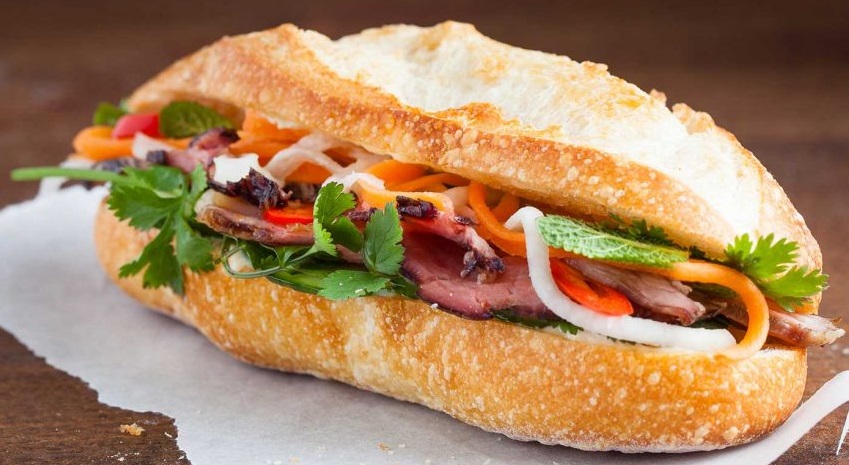 2. Pho
Referring to Vietnamese cuisine, pho is unforgettable. "Pho" was also added to the Oxford dictionary when international friends mentioned this dish. The main ingredients of pho are noodles and broth with beef or thinly sliced ​​chicken. In the bowl of noodles contains 18-20 foods of animal origin and natural plants, they work together in harmony to create a unique taste that is very delicious and easy to digest even for foreign diners.
In addition to the traditional types of processing, today there are many other types of pho such as Rolling Pho, Pan-fried Pho, Stir-fried Pho, etc. Along the country, Pho is modified to suit the taste of indigenous people but still retain the flavor from ancient times.
While Pho Le and Pho Dau are loved by many Saigon people, Pho Hoa is well known to tourists all over.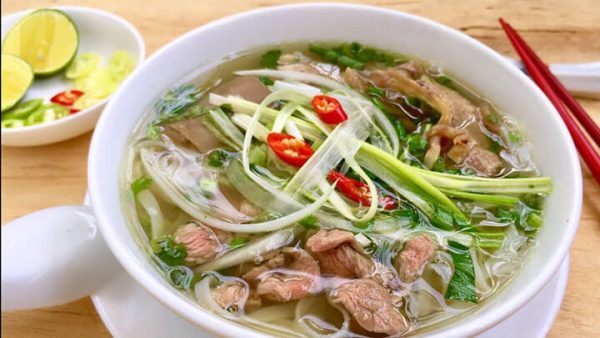 3. Saigon's broken rice
Broken rice is a specialty of South Vietnam. This is one of the most favorite breakfast dishes of Saigon people. The most special ingredient that makes up the name of this dish is rice cooked from broken rice. A plate of broken rice includes grilled ribs, pork skin, egg rolls, and omelet. People often eat broken rice with green onion oil garnish or sour food.
Broken rice is easy to find on every street in Saigon. From a breakfast dish, broken rice has become a popular lunch and dinner dish in this city.
Ba Ghien broken rice and Bui broken rice are two names to mention when referring to Saigon's broken rice. There are also Thuan Kieu broken rice, Moc broken rice, ….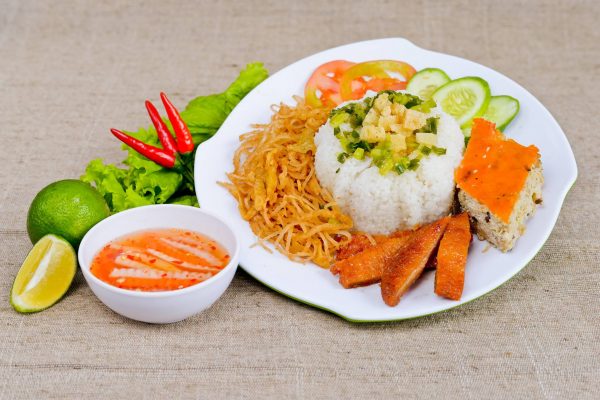 4. Hu tieu (Rice noodles)
Hu tieu has flourished in the South of Vietnam since the 1950s, especially in Saigon. It is very easy to find a hu tieu noodle shop on the street or push noodles in the alley. The main ingredients are noodles, pork, beef balls, seafood (mainly squid, shrimp or fish), bean sprouts, shallots, … with broth made from minced meat and pig's stripes.
In Saigon, Nam Vang rice noodles are the most famous type. In addition, there are Thanh Xuan noodles and Thieu Ki noodles.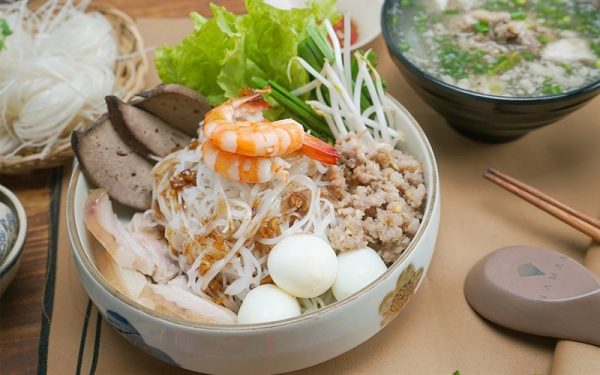 5. Saigon pancake
A dish of yellow, crispy pancakes full of pork, shrimp, bean sprouts, displayed with green vegetables and a bowl of aromatic dipping sauce will surely make visitors remember forever. Depending on the region and interests, bakers will add eggs, beans, …
This dish is popular along Vietnam and particularly familiar in the Central and Southern. The most obvious difference between the Central pancake and the Southern pancake is the size and crunch of the crust. The Central Pancake is smaller and crunchy, while the Southern Pancake is much larger and the crust is soft, just crunchy at the edge.
When eating, diners roll the cake with broad kelp (many places roll a layer of outer rice paper outside), add raw vegetables and dipping with dipping sauce.
In Saigon, Muoi Xiem pancakes, 46A pancakes and Ngoc Son pancakes are all familiar places when the local mention to this dish.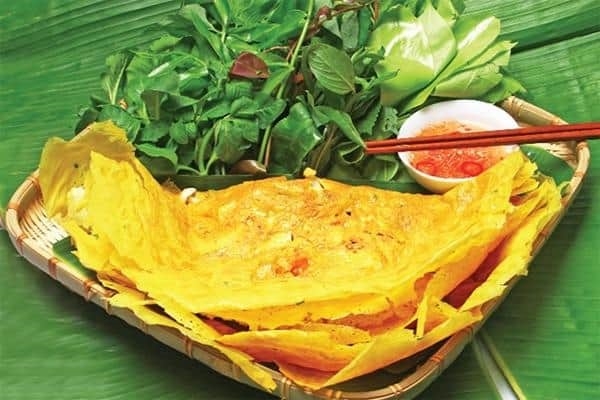 Such attractive dishes, right? If you intend to explore the famous dishes and places in Saigon by motorbike, a 4G sim card with Internet connection is indispensable when you come to Vietnam. Do not get lost, please visit the following link to choose the most suitable sim package for you.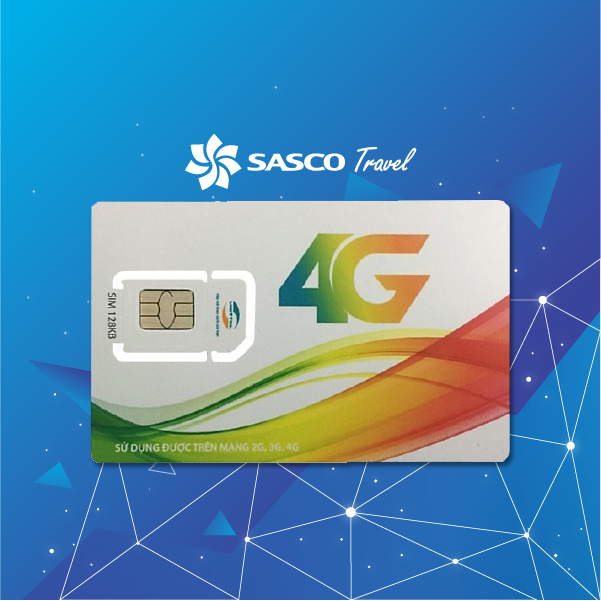 Wish you have a great experience in Saigon!
Summary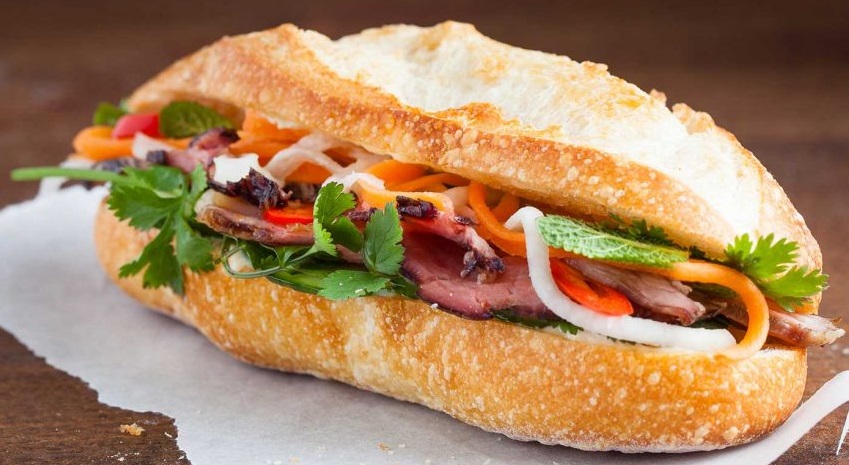 Article Name
TOP 6 popular delicious dishes in Saigon
Description
TOP 6 popular delicious dishes in Saigon: 1. Banh mi (Vietnamese bread) 2. Pho 3. Saigon's broken rice 4. Hu tieu (Rice noodles) 5. Saigon pancake
Author
Publisher Name
Publisher Logo