VIETNAM TRAVEL ITINERARY, DISCOVER VIETNAM FROM SOUTH TO NORTH: 7-STEP JOURNEY BETWEEN HO CHI MINH AND HANOI.

TRAVEL ITINERARY IN VIETNAM 2020
Vietnam is a country which attracts more and more travelers every year. Thanks to its efficient transport network, it has become very easy to travel across the country from north to south or vice versa. Its size and elongated shape allow you to visit a good part of the country in 1 month, the duration of a visa . This article is primarily intended to give you an idea of ​​routes to travel 1 month in Vietnam. If you have little time find our travel itinerary in 15 days in Vietnam .
We will therefore offer you a travel itinerary in Vietnam, itinerary between Ho Chi Minh and Hanoi to be covered in around 30 days.
ITINERARY: 30 DAYS BETWEEN HO CHI MINH AND HANOI
Our travel itinerary begins in Ho Chi Minh because flights from France are generally cheaper to Ho Chi Minh City, rather than the capital Hanoi (in the north of the country):
TRAVEL ITINERARY: 30 DAYS IN VIETNAM
The ideal is to apply for a 30-day visa to calmly visit Vietnam from north to south. In 15 days it is best to focus on one region of the country. You will have to choose between north and south.
STAGE 1: HO CHI MINH CITY (4 DAYS)
We will start by spending two days in Ho Chi Minh City to acclimatize and visit the main historical places. And two more days in the immediate vicinity: spend one day exploring the famous Cu Chi tunnels and another to visit the banks of the Mekong and floating villages.
STEP 2: MUI NE (2 DAYS)
From Ho Chi Minh, take the direction of Mui Né, 1/2 day's drive towards the east and the coast. Mui Né will be your first seaside destination in the Saharan landscape. Known mainly for its famous sand dune, it is also a gathering place for kite surfers.
STAGE 3: DA LAT (2 DAYS)
Continue your road to Da Lat. Allow another good 1/2 day for the journey and you will return to calm in a mountainous region. Da Lat is famous for its pagodas, lakes and waterfalls … it is a fantastic place for lovers of hiking and the outdoors.
STAGE 4: HOI AN AND THE CHAM ISLANDS (5/6 DAYS)
For this fourth stage, we are going to Hoi An in the central region of Vietnam. Hoi An is considered by many to be the most beautiful city in the country , so don't miss it! You will also have the chance to visit the Cham Islands located just opposite the coast. Islands with dream beaches and a perfect alternative to the overcrowded "Phu Quoc" or "Nha Trang".
The journey between Da Lat and Hoi An is quite long: you will have to go through Nha Trang to change buses.
To book your tickets the ideal is to take the bus from 7:30 am (arrival Nha Trang around 11:30 am) , so you will have a connection by night bus (departure 7 pm) to Hoi An.
The direct route also exists but 15 hours of bus in a row with a scheduled arrival at 4 am in Hoi An seems uncomfortable.
If you have some time, take the opportunity to stop for a few days in Nha Trang .
STAGE 5: HUE, A CITY STEEPED IN HISTORY
We continue our discovery of Vietnam a little further north, for a short stop in Hue : one of the cities most charged with history. Allow 3 days to visit Hue.
You will find different bus companies for the route between Hoi An and Hue
STEP 6: NINH BINH (3 DAYS)
Back inland to Ninh Binh where you can observe sumptuous landscapes and enjoy nature endlessly. Without forgetting to visit the small village of Tam Coc .
Once again, it's a big step ahead. Allow between 10h to 13h transport by train or bus . If you have not yet taken the train , this may be the occasion 😉 If you find the journey too long, consider making an overnight stop in the city of Vinh.
STEP 7: HANOI AND HALONG BAY (5 DAYS)
You have arrived in the capital of the country, enriched by the many meetings of your adventure. Hanoi is a city full of surprises to discover over a few days. Take the opportunity to do the last few shopping and souvenirs.
Without forgetting to go to the famous and unmissable Halong Bay on a day cruise , or on your own take advantage of the few days remaining in Cat Ba (near Halong Bay)
ITINERARY: 7 STAGES BETWEEN HO CHI MINH AND HANOI
Summary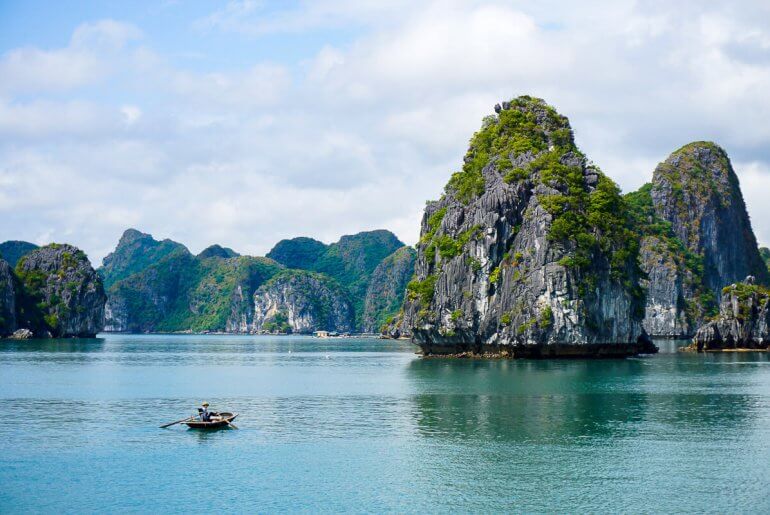 Article Name
TRAVEL ITINERARY IN VIETNAM: FROM HO CHI MINH TO HANOI
Description
VIETNAM TRAVEL ITINERARY, DISCOVER VIETNAM FROM SOUTH TO NORTH: 7-STEP JOURNEY BETWEEN HO CHI MINH AND HANOI.
Author
Publisher Name
Publisher Logo